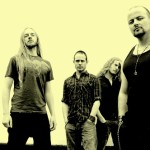 Danezii de la MERCENARY si finlandezii de la OMNIUM GATHERUM vor porni intr-un turneu european ce va ajunge si in Romania, in data de 4 septembrie 2013 la The Silver Church din Bucuresti.
Mercenary va prezenta in Romania viitorul material discografic intitulat "Through Our Darkest Days", ce va fi lansat in data de 26 iulie 2013, iar Omnium Gatherum va lansa oficial ultimul album intitulat "Beyond", material lansat in data de 25 februarie 2013, via Lifeforce Records.
Alaturi de cele doua formatii pe scena din The Silver Church va urca si o trupa autohtona.
Eveniment organizat de Promusic Events si Maximum Rock Magazin (Producator Nelu Brindusan).
**********************
Biletele se pot achizitiona din reteaua Eventim (Magazinele Germanos, Orange, Vodafone, Domo, librariile Carturesti, Humanitas si online pe www.eventim.ro), intr-un numar limitat de 500 bucati, la urmatoarele preturi:
50 lei – primele 100 de bucati (extragere 20 meet & greet-uri)
58 lei – urmatoarele bilete achizitionate pana la data de 03 sept. 2013
65 lei – biletele achizitionate in ziua concertului
O lista cu toate magazinele din tara unde gasiti bilete pentru acest concert se poate vedea AICI.
Persoanele care achizitioneaza bilete din primele 100 de bucati (50 lei) participa la o extragere la sorti pentru 20 pass-uri de meet & greet . Pentru aceasta, cei interesati trebuie sa trimita un email la promo@promusicprod.ro (subiect: Mercenary & Omnium Gatherum) in care sa specifice urmatoarele: numele si prenumele, codul de bare si data la care a fost achizitionat acest bilet.
**********************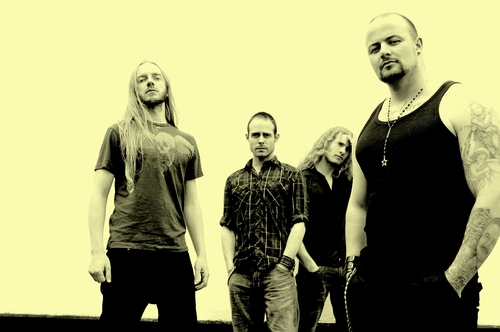 MERCENARY este o formatie cu adevarat "grea" care combina cu maiestrie death-metalul melodic cu power-metal si thrash-metal. Rezultatul este o trupa curajoasa, cu o identitate bine-definita si cu o cariera vasta in spate.
Aparuta in 1991 in Danemarca, trupa este copilul de suflet al lui Henrik "Kral" Andersen (bas, growls si chitara). Numele formatiei a fost inspirat de un cantec al trupei Slayer, intitulat "Ghosts Of War".
In ultimii 10 ani, trupa Mercenary a fost cap de afis la toate evenimentele metal din Danemarca, fiind o reprezentanta de seama a scenei daneze. Formatia a plecat in turneu cu nume mari ca Megadeth, Arch Enemy, Nevermore, King Diamond, Death Angel si multi altii. Mercenary a prestat in calitate de headliner la festivaluri prestigioase ca Wacken, Tuska, Metal Camp, Earthshaker, Inferno, Graspop, Progpower Europe si US si multe altele.
Formatia a suferit o schimbare majora de componenta in 2009, dar si-a revenit rapid prin cooptarea lui Morten Lowe (tobe), Jakob Molbjerg (chitara), Martin Buus (chitara) si Rene Pedersen (voce/bas).
Mercenary s-a ridicat din propria cenusa asemenea pasarii Phoenix si a adus un nou sound – contagios, proaspat si original. Mai uniti ca niciodata, membrii trupei daneze pregatesc un album puternic intitulat "Through Our Darkest Days", care va fi lansat in curand.
Cateva videoclipuri se pot viziona aici:
Discografie:
Albume de studio:
First Breath (1998)
Everblack (2002)
11 Dreams (2004)
The Hours that Remain (2006)
Architect of Lies (2008)
Metamorphosis (2011)
Through Our Darkest Days (2013)
EP-uri:
Supremacy (1996)
Compilatii:
Mercenary (2006)
Demo-uri:
Domicile (1993)
Gummizild (1994)
Componenta actuala:
Martin Buus (chitara, clape, backing vocals)
Jakob Mølbjerg (chitara)
René Pedersen (voce, bas)
Morten Løwe (tobe)
**********************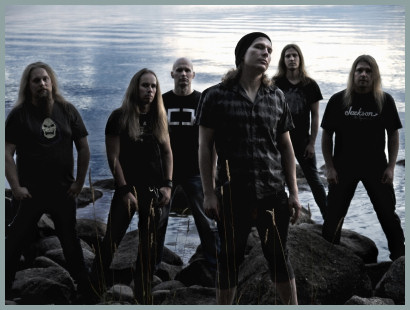 In death-metal, exista acel punct de "ruptura" stilistica in care aproape toate formatiile care apartin genului incep sa semene unele cu celelalte. Cu toate acestea, daca esti foarte bun, poti sa eviti aceasta uniformitate care aduce prejudicii originalitatii.
O trupa care a descoperit "piatra filosofala" a unicitatii este OMNIUM GATHERUM, un grup finlandez de melo death progresiv, intemeiat in Karhula, in anul 1996.
Melodiosi, versatili si complecsi din punct de vedere compozitional si orchestral, trupetii au pus bazele uneia dintre cele mai interesante formatii contemporane din genul death. Diferiti de toti colegii lor de breasla, indiferent ca vorbim despre Amorphis sau Eternal Tears Of Sorrow, Omnium Gatherum contureaza un stil individual si recognoscibil.
"Urasc formatiile ca Omnium Gatherum! Sunt atat de bune incat ma enerveaza. Amestecul fin dintre melodicitate si agresivitate este atat de bun incat mi-a trecut prin minte sa fur albumul si sa-l lansez sub numele meu. Nu se va mai face un disc atat de bun in death-metal ani de zile de acum incolo!", a comentat celebrul producator suedez Dan Swano despre "The Redshift", discul cu numarul 4 al grupului.
Apreciati de criticii europeni si americani drept una dintre cele mai bune aparitii pe scena internationala de metal, Omnium Gatherum sunt o trupa-cult in Finlanda, "New World Shadows" fiind considerat un album-manual pentru toate formatiile care vor sa cante in genul death.
Cateva videoclipuri sepot viziona aici:
In total, formatia a lansat 6 discuri, ultimul – "Beyond" – aparut in 2013 si primind numai recenzii pozitive.
Discografie:
Spirits and August Light (2003)
Years in Waste (2004)
Stuck Here on Snakes Way (2007)
The Redshift (2008)
New World Shadows (2011)
Beyond (2013)
Componenta actuala:
Jukka Pelkonen – voce
Markus Vanhala – chitara
Joonas "Jope" Koto – chitara
Aapo Koivisto – clape
Erkki Silvennoinen – bas
Jarmo Pikka – tobe