Formatia EMERGENCY GATE se pregateste sa lanseze un nou album, "Infected", pe data de 26 septembrie 2014.

In avans, trupa a scos un single proaspat, intitulat "Sons of the Second", insotit de videoclip. Acesta poate fi urmarit mai jos.
In clip, apare si muzicianul Haddaway, al carui super-hit, "What is Love", a fost transformat intr-un cover metal de catre germanii de la Emergency Gate.
Formatia va canta si in Romania, pe data de 25 octombrie 2014, in cadrul celui mai mare festival indoors din Romania, Maximum Rock Festival 2014, care va avea loc la Bucuresti, la Turbohalle.
Sons of the Second
[youtube=http://www.youtube.com/watch?v=2gSU0E8fxak&w=580&h=353]

What Is Love, feat Haddaway

[youtube=http://www.youtube.com/watch?v=mF7QpQspdVs&w=580&h=353]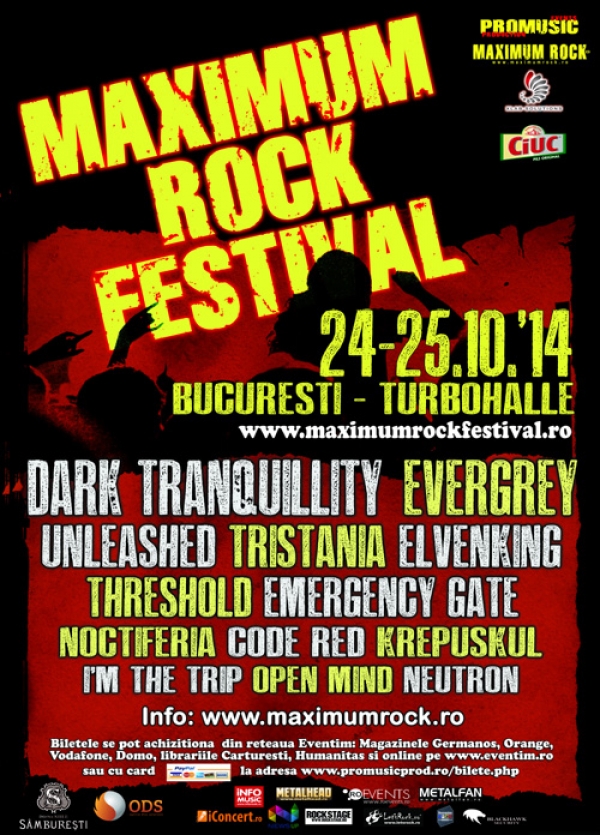 In momentul de fata, programul pe zile al festivalului este urmatorul:
24 octombrie 2014: Evergrey, Tristania, Threshold, Krepuskul, I'm The Trip, Neutron
25 octombrie 2014: Dark Tranquillity, Unleashed, Elvenking, Emergency Gate, Noctiferia, Code Red, Open Mind
Maximum Rock Festival 2014, cel mai mare festival indoors de metal din Romania si evenimentul "must-see" al toamnei la Bucuresti,  se afla la ce-a de-a doua editie si ne bucuram sa spunem ca promite sa devina unul dintre cele mai importante spectacole de gen din tara.
Deoarece capacitatea salii este limitata, s-a pus in vanzare un numar de 1300 de abonamente si 200 de bilete pentru fiecare zi, la urmatoarele preturi:
Bilete normal – valabile pentru 1zi (85 lei)
Abonament normal valabil pentru 2 zile (115 lei / 26 euro – 1300 bucati)
In perioada 01.10-23.10.2014 biletul are valoarea de 100 lei iar abonamentul 135 lei
In perioada festivalului (24.10-25.10.2014) biletul are valoarea de 120 lei iar abonamentul 165 lei
Abonament special (115 lei / 26 euro – primele 50 bucati) – include:
– acces 2 zile la festival
– acces warm up party festival*
– acces meet & greet pentru 2 formatii la alegere
– poster festival
– pachet cu materiale promotionale
* cu ocazia acestui festival se vor organiza mai multe concerte (warm up party-uri), iar cu acest abonament dvs puteti alege unul dintre acestea.
Cumpara abonamente la festival in rate!!!
Pentru a veni in sprijinul celor care doresc sa participe la Maximum Rock Festival organizatorii au pus in vanzare abonamente care pot fi platite in doua rate astfel:
– prima rata de 65 lei se va achita prin PayPal
– a doua rata de 50 lei se va achita direct la intrare (casa de bilete), in momentul in care se va ridica abonamentul de festival.
Biletele / abonamentele achizitionate prin PayPal vor fi ridicare in ziua evenimentului, de la punctul special amenajat la intrare, sau la cerere cu maxim 10 zile inainte de eveniment, pe baza unui act de identitate.
Afla mai multe despre regulamentul biletelor AICI.
Biletele se pot achizitiona si din reteaua Eventim (Magazinele Germanos, Orange, Vodafone, Domo, librariile Carturesti, Humanitas si online pe www.eventim.ro)
Un eveniment oferit de Ciuc Premium si Domeniile Samburesti!