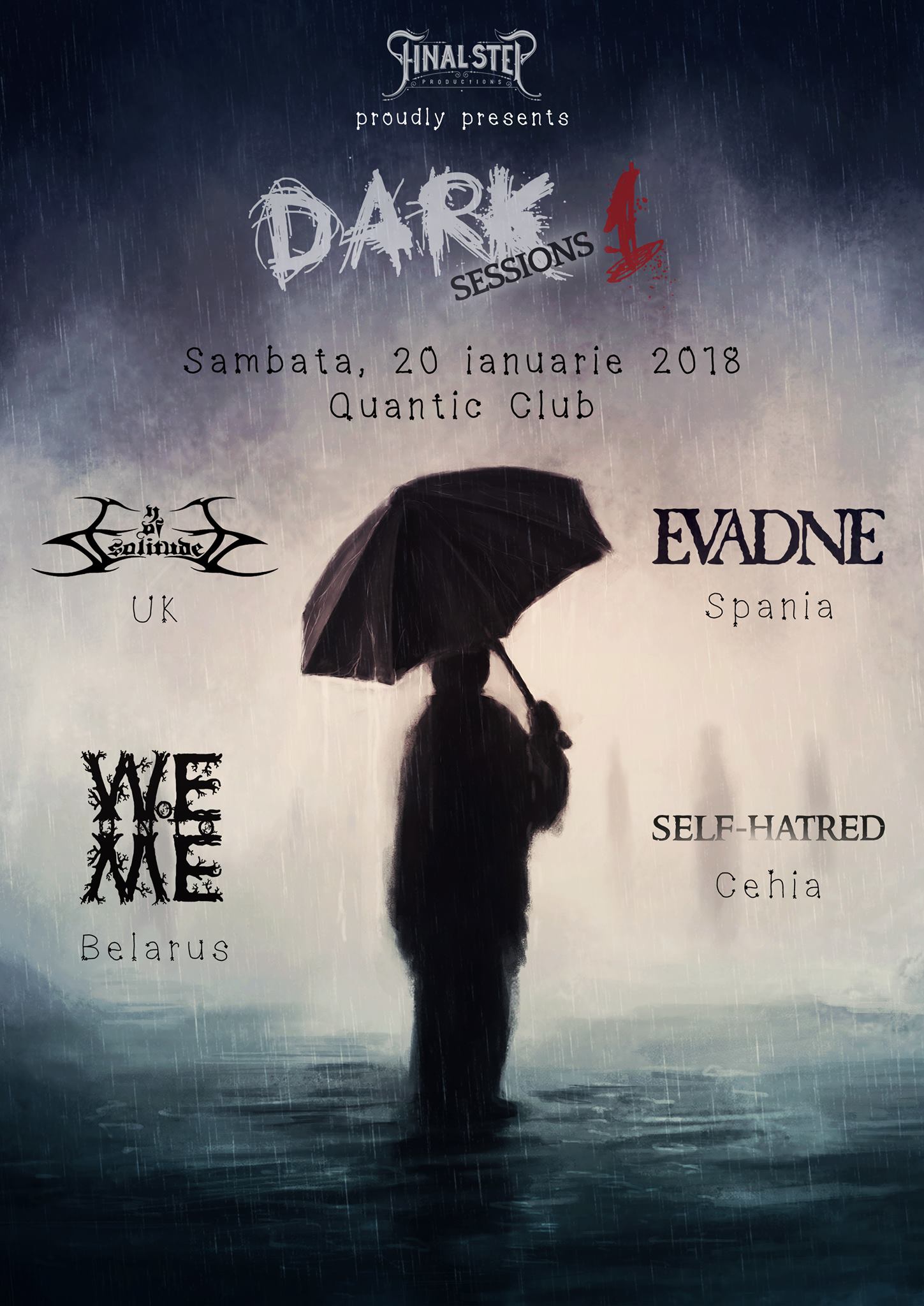 DARK SESSIONS 1 este prima editie dintr-o serie de concerte organizate de Final Step Productions ce vor avea in prim plan trupe din zona mai dark a metalului international si national.
EYE OF SOLITUDE – Funeral Doom/Death Metal – UK
https://www.facebook.com/eyeofsolitudeband/
EVADNE – Melodic Doom/Death Metal – Spain
https://www.facebook.com/EvadneOfficial/
WOE UNTO ME – Funeral Death/Doom Metal – Belarus
https://www.facebook.com/woeuntome/
SELF-HATRED – Doom/Black Metal – Cehia
https://www.facebook.com/selfhatreddoom/
══════════════
BILETE:
40 de lei – presale in reteaua iabilet.ro
50 de lei – in ziua concertului si la intrare
Sambata, 20 ianuarie 2018
Quantic Club
Bucuresti, Intrarea Grozavesti
══════════════
EYE OF SOLITUDE a inceput ca un proiect solo al romanului Daniel Neagoe si s-a transformat intr-unul dintre cele mai importante proiecte de Doom Death din Europa. Acestia au avut o activitate de invidiat in ultimii 5 ani (3 albume si 3 EP-uri). Mixand elemente de dark metal, black metal, gothic metal si chiar avantgarde sau traditional (epic) doom metal alaturi de reteta doom death, Eye of Solitude depaseste barierele creative, adaugand elemente inovative cu fiecare noua creatie.
Sunetul EVADNE este bazat pe melancolie, o incercare disperata de a crea un soundtrack adecvat pentru sentimentele cele mai adanci si mai triste ale fiintei umane. Singuratatea, disperarea, tristetea, ura, iubirea sunt doar cateva adjective, care alaturi de o uriasa forta melodica dau sens acestei trupe spaniole de melodic doom death metal. Evadne pastreaza o diversitate muzicala balansata datorita faptului ca este formata din diferite si variate stiluri muzicale.
WOE UNTO ME a aparut in 2008 in Grodno (Belarus). Albumul de debut "A Step Into The Waters Of Forgetfulness" a fost primit foarte bine, dupa cum arata si review-urile excelente din intreaga lume. Trupa a luat parte la cateva festivaluri din tara si din strainatate. Noul album dublu "Among The Lightened Skies The Voidness Flashed" a fost lansat pe 29 septembrie si include invitati precum Daniel Neagoe (Clouds, Eye Of Solitude, Shape Of Despair), Jón Aldará (Hamferð, Barren Earth, Clouds), Thomas A.G. Jensen (Saturnus) si Patryk Zwoliński (ex-Blindead, Proghma-C, ex-Neolithic).
SELF-HATRED este o trupa de doom/black metal care urmeaza mostenirea zilelor vechi in felul sau propriu. Albumul de debut al cehilor este plin de spiritul scenei doom a anilor 90, combinat cu un sound modern si interpretare specifica a fatalitatii muzicale. Un album dinamic de doom / death metal il arunca pe ascultator in adancurile alegoriilor alaturi de fosti membri ai Et Moriemur, Dissolving Of Prodigy si Silent Stream Of Godless Elegy.
══════════════
Biletele se găsesc în format electronic pe www.iabilet.ro si în reţeaua fizică de 1800 de puncte www.iabilet.ro/retea (in Magazinul Muzica, Cafe Deko, Club Vintage, Club Quantic, Agentiile Perfect Tour, standul de bilete de la Metrou Unirii 1 (langa casa de bilelete Metrorex), Magazinele Uman si IQ BOX, reţeaua de magazine Say – partener Orange, pe terminalele self-service ZebraPay din toată ţara, la Hard Rock Cafe precum si in ziua concertului la intrare dar si pe aplicatiile de IOS si Android iaBilet.
Comments
comments
Powered by Facebook Comments