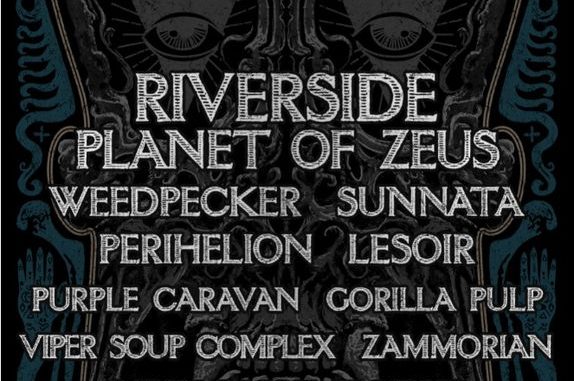 A treia editie SoundArt Festival va avea loc in club Quantic, in perioada 8-10 martie 2019. Organizatorii au anuntat un nou val de confirmari: Lesoir, Gorilla Pulp, Mihai Barbu Project si Zammorian se alatura celor de la Riverside, Planet of Zeus, Sunnata, Weedpecker, Perihelion, Viper Soup Complex si Purple Caravan.
Abonamentele si biletele pot fi achizitionate de pe iabilet.ro.
Pentru mai multe informatii si surprise, organizatorii va asteapta pe pagina evenimentului de pe facebook: https://www.facebook.com/events/1384609415002533/
Lesoir – artrock, Olanda
https://www.youtube.com/watch?v=Nb92M8pNcIk
Lesoir ii insotesc pe Riverside pe parcursul turneului european din 2019. Trupa s-a infiintat in 2010, iar stilul abordat este dificil de definit din cauza compozitiilor complexe ca structura si a disonantelor ritmice care presara muzica Lesoir. Daca progresivul poate fi gasit la baza, Lesoir nu se sfiesc nici de la pasaje de jazz sau chiar math-rock. Cel mai recent al albumul, "Latitude," a fost lansat in 2017. Lesoir se considera influentati de Anathema, Porcupine Tree, Steven Wilson si The Gathering.
Gorilla Pulp – blues, stoner rock, Italia
https://www.youtube.com/watch?v=nGb9zxOxkE0
Gorilla Pulp este o trupa italiana care canalizeaza influentele lor blues, psychedelic, stoner rock si heavy metal din anii '70 intr-un mod unic. Infiintata in 2014 de Maurice Flee (vox / chitara) si Choris (bas), formatia a fost completata de Vernati (chitare) si Bulldozer (tobe). In 15 decembrie 2014 primul EP a fost lansat de Mother Fuzzer Records din Dublin. "Peyote Queen", albumul de debut a vazut lumina zilei in 2016 prin intermediul Retro Vox Records. Trupa a aparut mai tarziu cu piesa "Witchcraft" pe o compilatie alaturi de legende ale stilului precum Pentagram, Saint Vitus, Hawkwind samd. Cel mai recent material al trupei se numeste "Heavy Lips", lansat in 2017.
Zammorian – post-psychedelic/progressive post-rock, Romania
https://zammorian.bandcamp.com/track/awakening-live-at-the-z-k-studio-august-2018
https://www.youtube.com/watch?v=zFfHuPNYvNQ
Zammorian sunt un colectiv de artisti si designeri romani care se manifesta prin muzica, elemente vizuale si povesti. Stilul muzical este instrumental, cinematic cu influente din zona prog si electronic. Sub materialul compus se ascunde o mitologie bazata de povestiri si arcuri narative. Povestea completa va fi lansata ca un roman.
Zammorian au aparitii live impresionate in care folosesc elemente vizuale abstracte create de Awkwarizmi, artistul VJ al grupului. The Theory of Absence " Parts I & II este numele materialului de debut. Acesta va fi lansat in 2019 ca dublu album.
Mihai Barbu Project – progressive/ambient metal, Romania
https://www.youtube.com/watch?v=mPam1L3mGPU
Trupa a luat nastere din initiativa lui Mihai Barbu in toamna anului 2017. Aceasta si-a creat propriul stil muzical prin imbinarea elementelor de progressive si ambient metal, reusind astfel sa aiba un sunet modern si complex. MBP a lansat pe platformele de streaming, albumul de debut, intitulat "A Lifetime Consequence", ce contine un material muzical cu o durata de peste 80 de mi minute. Piesele ataca conflictul interior al artistului si pacea regasita odata cu finele compozitiei.
---
Informatii despre abonamente si bilete:
Abonamentele pot fi achizitionate la pretul de 150 de lei.
Bilete SoundArt Festival 2019 ziua I – 35 de lei – trupe confirmate: Perihelion, Gorilla Pulp, Purple Caravan, Zammorian
Bilete SoundArt Festival 2019 ziua II – 55 de lei – trupe confirmate: Planet of Zeus, Sunnata, Weedpecker
Bilete SoundArt Festival 2019 ziua III – 70 de lei – trupe confirmate: Riverside, Lesoir, Viper Soup Complex, Mihai Barbu Project
Incepand cu prima zi a festivalului abonamentele si bilete pot fi achizitionate din Quantic la urmatoarele preturi: Abonament – 175 lei, bilet ziua I – 45 lei, bilet ziua II -75 lei, bilet ziua III – 90 lei.
Eveniment consacrat contemporaneitatii, SOUNDART Festival gireaza pentru ingeniozitatea muzicii experimentale moderne ca ferment al procesului sincretic. Primele trei zile ale festivalului vor fi completate de concerte sustinute de numeroase si importante trupe apartinand sferelor rock Stoner si Progressive ale Europei.
Biletele se gasesc in format electronic pe www.iabilet.ro si in reteaua fizica iabilet.ro/retea: Magazinele Flanco, Diverta, Hard Rock Cafe, Cafe Deko, Club Vintage, Club Quantic, Expirat Halele Carol (in intervalul orar: 18:00-22:00), Beraria H, Metrou Unirii 1 langa casa de bilete Metrorex, Magazinul Muzica, Magazinele IQ BOX – Telekom, Agentiile Perfect Tour, Magazinele Uman, sediul librariei Libmag (Bulevardul I.C. Bratianu, nr. 6, Sector 3), Casa de balet si pe terminalele Selfpay din toata tara.
Online pe www.iabilet.ro, puteti plati cu Cardul, prin Paypal, pe factura la Vodafone sau Orange cu plata la sfarsitul lunii sau ramburs cu plata cash prin Fan Courier oriunde in tara.
Comments
comments
Powered by Facebook Comments