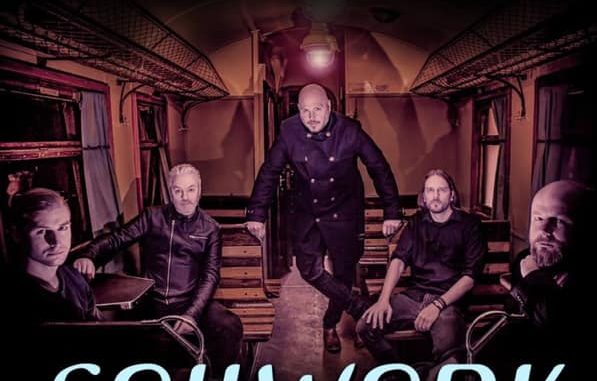 Istoria cunoscutei trupe de melodic death metal Soilwork începe în 1995 în Suedia, sub numele de "Inferior Breed". Dacă în stilul abordat la început se puteau recunoaște influențe ale Pantera, Meshuggah sau Carcass, trupa a virat ușor spre zona de melodic death, incluzând în lucrările lor pasaje vocale melodioase și părți instrumentale unice cântate la pian. După o creștere rapidă pe scena locală, albumul "A Predator's Portrait" (2001) le-a adus recunoașterea internațională. Materialul a fost urmat la numai un an distanță de "Natural Born Chaos" (completat de un turneu european alături de Children of Bodom și Shadows Fall) și de albumul "Figure Number Five" (2003), care a oferit ocazia unui nou tur alături de In Flames, Chimaira și Unearth.
A urmat în 2005 "Stabbing The Drama", care s-a clasat direct pe locul 14 în topurile suedeze, în cele finlandeze pe locul 19 și s-a menținut pe poziția 148 în Billboard Charts timp de mai multe săptămâni. Efervescența creativă a continuat cu "Sworn To A Great Divide", la doi ani distanță, album cu un sound mai apropiat de thrash comparativ cu lucrările anterioare, dar marcat în continuare de prezența elementelor synth caracteristice trupei. Lansarea a fost completată de tururi de promovare, împreună cu Caliban, Sonic Syndicate și Dark Tranquillity și apoi de un turneu în SUA, cu co-headlineri precum Lamb of God, Killswitch Engage și DevilDriver.
În 2010 trupa s-a întors în studio pentru a lucra la un nou album care a apărut pe piață în iulie, același an, sub numele de "The Panic Broadcast" și a fost urmat de un nou tur de forță în Europa și America de Nord. La numai trei ani distanță Soilwork au surprins scena muzicală internațională cu un album dublu, intitulat "The Living Infinite", produs de Jens Bogren (Opeth, Amon Amarth).
În ciuda turneelor lungi și obositoare la care au participat în următorii ani, Soilwork și-au menținut energia creativă astfel încât în 2015 au lansat cel de-al zecelea album "The Ride Majestic", ce a fost precedat de un material video special, "Live In The Heart Of Helsinki" ce conține înregistrarea integrală a show-ului trupei de la Circus Club din Finlanda, un show deosebit care a avut și câțiva invitați speciali, precum Floor Jansen sau Nathan J. Biggs.
2016 a fost prilejul unei alte premiere marca Soilwork, scoaterea pe piață a unei colecții de lucrări și materiale rare legate de trupă, colecție reunită sub numele de "Death Resonance". Aceasta include două piese noi și alte materiale audio care nu văzuseră prea des lumina zilei în ultimii 11 ani. Pe lângă existența unor lucrări rare, pe "Death Resonance" au mai fost puse la dispoziția fanilor și materiale promo și poze ce nu fuseseră publice până la acel moment. Apoi, până în toamna lui 2017, grupul s-a dedicat turneelor, încheiate în peninsula scandinavă.
Soilwork a început 2018 în studio, lucrând la următorul album cu care plănuiește să își uimească fanii.
_________________
New confirmation: SOILWORK
The history of the well-known death metal band Soilwork begins in 1995 in Sweden under the name "Inferior Breed". If the influences of Pantera, Meshuggah or Carcass could be recognized in the beginning, the band moved slightly towards the melodic death zone, including their melodious vocal passages and unique instrumental parts played on the piano. After a rapid growth on the local scene, the album "A Predator's Portrait" (2001) brought them international recognition. The material was followed only one year away from "Natural Born Chaos" (completed by a European tour alongside Children of Bodom and Shadows Fall) and the "Figure Number Five" album (2003), which offered a new tour In Flames, Chimaira and Unearth.
In 2005 "Stabbing The Drama" was next which ranked the 14th place in the Swedish charts, in the Finnish ones on the 19th place and kept on position 148 on the Billboard Charts for several weeks. Creative effervescence continued with "Sworn To A Great Divide," two years away, an album with a sound closer to the thrash than previous works, but still marked by the presence of the synth elements characteristic of the band. The launch was complemented by promotion tours along with Caliban, Sonic Syndicate and Dark Tranquility and then a US tour with co-headliners such as Lamb of God, Killswitch Engage and DevilDriver.
In 2010, the band returned in the studio to work on a new album that appeared on the market in July, the same year as "The Panic Broadcast," followed by a new tour of force in Europe and North America. Only three years away, Soilwork caught the international musical scene with a double album titled "The Living Infinite," produced by Jens Bogren (Opeth, Amon Amarth).
In spite of the long and tiring tournaments they participated in the next few years, Soilwork maintained its creative energy so in 2015 they released their tenth album "The Ride Majestic," which was preceded by a special video, Live In The Heart Of Helsinki ", which includes the full recording of the band's show at the Circus Club in Finland, a special show that also had some special guests, such as Floor Jansen and Nathan J. Biggs.
2016 was the occasion for another Soilwork disc, the release of a collection of rare works and rare material related to the band, collected under the name of "Death Resonance". This includes two new tracks and other audio materials that have not seen the light of day for the past 11 years. In addition to the existence of rare works, "Death Resonance" has also made available to fans and promo materials and pictures that were not public until then. Then, until the autumn of 2017, the group dedicated itself to the touring, concluded in the Scandinavian peninsula.
Soilwork started 2018 in the studio, working on the next album and planning to amaze his fans.
Comments
comments
Powered by Facebook Comments