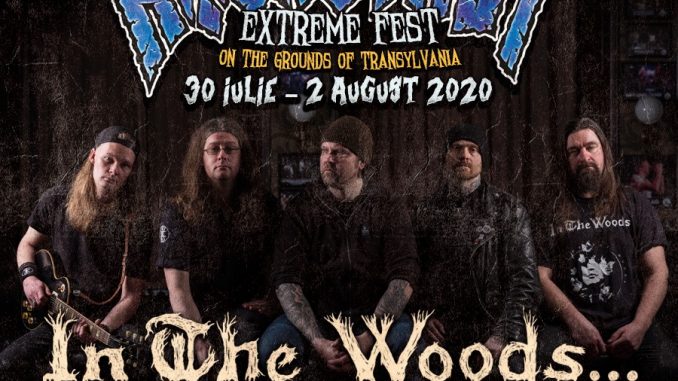 IN THE WOODS … [Norvegia] [Dark Avant-garde Progressive Metal]și-a început călătoria muzicală în 1991, în Kristiansand, Norvegia, când o parte din membrii fostei trupe de death metal Green Carnation s-au reunit pentru a forma un nou proiect, care a fost definit de unii drept psyhedelic black metal.
Grupul și-a trasat ca misiune explorarea cât mai multor genuri muzicale, primele materiale dovedind din plin acest lucru. "Heart of the Ages" (1995), albumul de debut este considerat încă un clasic al stilului black metal, care îi extinde totuși limitele tradiționale prin includerea claviaturii sau a vocilor feminine combinate cu pasaje de voci distorsionate. Prin următoarele materiale, "Omnio" (1997) și "Strange In Stereo" (1999), grupul începe deja să abordeze teritoriile doom metal-ului, rockului progresiv sau să includă influențe avant-garde. Dacă "Omnio" este considerat de unii drept cel mai bun album experimental al trupei, datorită îmbinărilor vocilor cu versuri profunde cu o linie instrumentală complexă, "Strange In Stereo" aduce o turnură de stil, cu abordări mult mai versatile și dark.
După nouă ani de activitate însă, trupa a luat o scurtă pauză, ultimul material lansat înainte de acest moment fiind "Three Times Seven On A Pilgrimage" (2000) – considerat o compilație a materialelor anterioare, completate de câteva cover-uri după Pink Floyd, Jefferson Airplane sau King Crimson și de piese noi, precum o versiune nouă pentru melodia "Child Of Universal Tongue".
IN THE WOODS… a revenit pe scena muzicală în 2004, sub label-ul Debemur Morti Productions, aducând la lumină și un nou material: "Pure" (2016). Albumul continuă să sfideze așteptările și să surprindă ascultătorul prin îmbinările muzicale pe care le aduce, prin tonurile psihedelice ale claviaturii, riff-urile specifice melodic death-ului sau prin pasajele vocale neașteptate, susținute de cel mai nou membru al trupei, vocalul James "Mr Fog" Fogarty.
Noua direcție muzicală a formației este rezultatul maturizării și evoluției artistice: mintea haotică a tinereții se transformă într-o înțelepciune întunecată pe care doar experiența o poate aduce, iar abordările dark sunt îmbinate cu influențe doom ce conduc trupa spre teritorii muzicale încă neexplorate.
https://www.facebook.com/inthewoodsomnio/
https://www.instagram.com/inthewoodsofficial/
IN THE WOODS … [Norway] [Dark Avant-garde Progressive Metal]
IN THE WOODS … began its musical journey in 1991, in Kristiansand, Norway, when some of the members of former Green Carnation death metal band reunited to form a new project, which was defined by some as psychedelic black metal.
The group set out to explore as many musical genres as possible, with the first records fully proving this. "Heart of the Ages" (1995), the debut album is still considered a classic of the black metal style, which nevertheless extends its traditional boundaries by including keyboards or female vocals combined with distorted vocal passages. Through the following records, "Omnio" (1997) and "Strange In Stereo" (1999), the group was already beginning to approach the territories of doom metal, progressive rock or include avant-garde influences. If "Omnio" is considered by some to be the band's best experimental album, due to the combination of deep vocals with a complex instrumental line, "Strange In Stereo" brings a twist of style, with more versatile and dark approaches.
After nine years of activity, however, the band took a short break, the last record released before this time being "Three Times Seven On A Pilgrimage" (2000) – considered a compilation of previous works, supplemented by a few covers of Pink Floyd , Jefferson Airplane or King Crimson and new parts, such as a new version of the song "Child Of Universal Tongue".
IN THE WOODS … returned to the music scene in 2004, under the label Debemur Morti Productions, bringing to light a new record: "Pure" (2016). The album continues to defy expectations and to surprise the listener through the musical combinations it brings, through the psychedelic tones of the keyboard, the melodic specific riffs or the unexpected vocal passages, supported by the newest member of the band, the vocal James "Mr. Fog "Fogarty.
The new musical direction of the band is the result of artistic evolution: the chaotic mind of the youth turns into dark wisdom that only experience can bring, and the dark approaches are combined with doom influences that lead the band to the still unexplored musical territories.
https://www.facebook.com/inthewoodsomnio/
https://www.instagram.com/inthewoodsofficial/
Comments
comments
Powered by Facebook Comments