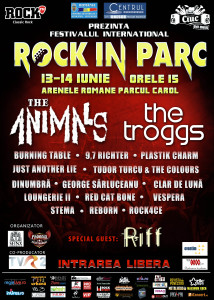 Festivalul Rock în Parc se va desfăşura pe joi şi vineri (13 şi 14 iunie) la Arenele Romane, iar The Animals, The Troggs, Riff, Vesperă, Roc4ce, Reborn, red Cat Bone, Plastik Charm, George Sarluceanu, Tudor Turcu & The Colours, DinUmbra, Loungerie II, 9,7 Richter, Just another lie, Burning Table şi Stema ne vor încânta timp de două zile cu muzică rock de cea mai bună calitate.
Organizatorii s-au pregătit temeinic pentru ca publicul să nu fie afectat de vremea impredictibilă, astfel că o copertină împotriva ploii este deja montantă la Arenele Romane. Aşadar, spectatorii nu au de ce să se teamă de posibilile condiţii meteo nefavorabile.
În incinta locaţiei, este interzis accesul cu următoarele obiecte:
– mâncare şi băutură din exterior (inclusiv apă)
– arme şi obiecte contondente (de tipul bricegelor, cuţitelor)
– droguri şi alte substanţe interzise de lege
La Arenele Romane, oferta de mâncare și băutură va fi îmbelșugată, iar prețurile vor fi la prețuri prietenoase.
Programul final al evenimentului este următorul:
13 iunie:
15:50 – Vespera
16:40 – Rock4ce
17:25 – Reborn
18:15 – Red Cat Bone
19:10 – Plastik Charm
20:05 – George Sărluceanu
21:00 – Tudor Turcu feat. The Colours
• Headliner:
22:00 – The Troggs
14 iunie
15:40 – Loungerie II
16:40 – DinUmbră
17:40 – 9,7 Richter
18:40 – Just another lie
19:35 – Burning Table
20:30 – Stema
 Special guest:
21:30 – Riff
 Headliner:
22:30 – The Animals
Festivalul Rock în Parc va fi filmat și difuzat de TVR 2, în calitate de co-producător al acestui eveniment.
Spectacolul este prezentat de Centrul Cultural pentru UNESCO "Nicolae Bălcescu" şi Primăria sectorului 4, organizat de Phoenix Entertainment şi Sfinx Experience și susținut de Ciuc Live Music.