Organizatorii Rock The City au emis un comunicat prin care anunta adaugarea a patru formatii romanesti (Goodbye to Gravity, Psychogod, White Walls, Rezident Ex) si a doua formatii straine care au mai participat la editiile din 2011 (Boon) si 2012 (Heaven Shall Burn). Deasemenea, s-a anulat prezenta celor de la Spineshank.
Line-up complet Rock the City 2013
• Noi nume pe afisul festivalului: Goodbye to Gravity, Psychogod, White Walls, Rezident Ex, Boon si Heaven Shall Burn
• Recitalul trupei norvegiene Enslaved se muta sambata si se prelungeste
Rock The City 2013 are loc in zilele de 27 si 28 iulie in Complexul Romexpo din Capitala. Organizatorii festivalului anunta lista completa a trupelor care vor sustine cate un recital si zilele in care trupele vor urca pe scena bucuresteana. Printre numele noi adaugate pe afis se regasesc trupe din Romania, Austria si Germania.
Astfel, prima trupa din programul zilei de sambata, 27 iulie, este Goodbye to Gravity, din Romania, o formatie cu experienta indelungata pe scenele din tara si din strainatate. Seara va continua cu Boon, trupa austriaca de metal si hardrock punk, ce a fost prezenta si la editia din 2011 a festivalului. Urmeaza Rezident Ex, un supergrup format exclusiv din muzicieni de top din Romania, Germania, Franta si Australia, care il readuce pe scena pe KEMPES, fostul solist al formatiei Cargo.
Tot in prima zi, pe scena vor urca norvegienii de la Enslaved, trupa care la cererea iubitorilor de progressive black metal a devenit co-headliner al serii si astfel va putea oferi un recital mai lung.
Prima zi a festivalului Rock The City 2013 se va incheia cu recitalul trupei germane Heaven Shall Burn, prezenta si la editia de anul trecut, foarte apreciata de publicul roman.
A doua zi a festivalului Rock The City 2013 va debuta cu Psychogod, o trupa romaneasca cu un sound metal agresiv, dar in acelasi timp modern, ce imbina stiluri ca hardcore, death si black metal sau industrial. Urmeaza apoi White Walls, o trupa de progressive metal din Constanta, care si-a construit o reputatie excelenta pe piata de rock din Romania, in urma LP-ului de debut intitulat "Mad Man Circus", dar si a prestatiei live de exceptie.
Seara continua cu Trivium, formatie de heavy metal din Orlando, Florida (SUA), nu demult castigatoare a premiului Best Live Band oferit de prestigioasa revista Metal Hammer.
Urmeaza Bullet For My Valentine, cea mai spectaculoasa trupa metalcore din lume, prezenta in premiera la Bucuresti. Dupa galezi, va fi randul headlinerilor festivalului, Rammstein, sa urce pe scena pentru a prezenta un show incendiar din toate punctele de vedere.
Nu in ultimul rand, organizatorii festivalului anunta cu regret faptul ca trupa americana Spineshank a fost nevoita sa isi anuleze intreg turneul european si nu va putea canta la aceasta editie a Rock The City.
Lineup-ul complet al editiei din acest an a festivalului Rock The City se prezinta astfel:
Sambata, 27 iulie
Heaven Shall Burn
Enslaved
Rezident Ex
Boon
Goodbye to Gravity
Duminica, 28 iulie
Rammstein
Bullet for My Valentine
Trivium
White Walls
Psychogod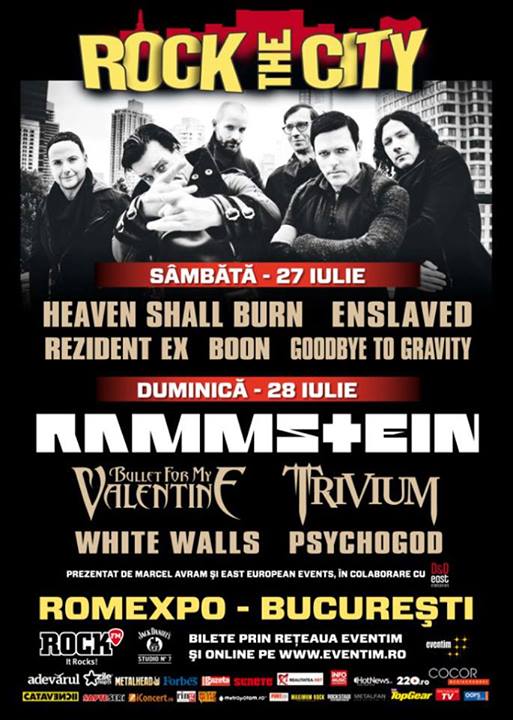 Biletele pentru Rock The City 2013 se distribuie exclusiv prin Reteaua Eventim – magazinele Germanos, Orange, Vodafone, Domo, librariile Humanitas si Carturesti si online pe eventim.ro.
Rock The City 2013 este organizat de Marcel Avram si East European Events, in colaborare cu D&D East Entertainment.