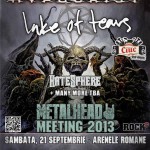 Dupa doua premiere absolute pentru Romania – Hypocrisy si HateSphere – line-up-ul festivalului METALHEAD Meeting 2013 se imbogateste cu una dintre cele mai iubite trupe de gothic/doom metal din Europa: Lake of Tears.
Pe suedezi ii veti putea vedea sambata, 21 septembrie, la Arenele Romane !
Lake of Tears a fost infiintata la inceputul anilor 1990 de catre Daniel Brennare, Jonas Eriksson, Mikael Larsson si Johan Oudhuis. Primul lor album, intitulat Greater Art, a fost lansat in 1994 si abordeaza un stil doom metal, care ulterior a evoluat considerabil, pentru a ajunge sa includa influente de rock psihedelic, progressive metal, si, cel mai recent, death metal.
Adevarata consacrare Lake of Tears a venit cu binecunoscutul album Headstones, care a uimit criticii si fanii deopotriva. Lansat in 1995, Headstones abordeaza un stil mai melodic si melancolic, iar versurile trec si ele prin schimbari importante, oglinding preocuparea lui Brennare pentru motive fantasy, care se vor regasi si pe viitoarele albume.
[youtube=http://www.youtube.com/watch?v=o9reuCbOMJU&w=580&h=353]
Componenta Lake of Tears
Daniel Brennare – Voce/Chitara (1994–present)
Mikael Larsson – Chitara bas
Johan Oudhuis – Tobe
Fredrik Jordanius – Chitara solo
Discografie
Greater Art (1994)
Headstones (1995)
A Crimson Cosmos (1997)
Forever Autumn (1999)
The Neonai (2002)
Black Brick Road (2004)
Moons and Mushrooms (2007)
Illwill (2011)
METALHEAD MEETING se va desfasura in data de 21 septembrie, la Arenele Romane din Bucuresti si promite sa fie unul dintre cele mai tari evenimente metal din 2013!
Pe langa Lake of Tears, METALHEAD MEETING ii va avea ca headlineri pe suedezii de la Hypocrisy, aflati pentru prima oara in Romania, carora li se adauga HateSphere.
Biletele pentru METALHEAD MEETING in format electronic se gasesc pe IaBilet.ro si in retelele Myticket (Diverta), Bilete.ro (Posta Romana, Inmedio, Germanos), Biletoo (Mag. Unirea, Libraria Eminescu) si in reteaua Eventim (magazinele Orange si Vodafone, in magazinele Domo, in librariile Humanitas si Carturesti)
Bilete fizice se pot gasi si la Club Fabrica (la terasa) si la sediul METALHEAD din Bd. Pierre de Coubertin 3-5, Office Building, Etajul 5 (langa Stadionul National – Vatra Luminoasa).
Presale:
80 lei – Zona B
120 lei – Zona A (in fata scenei) – doar 500 de bilete
In ziua concertului:
95 lei – Zona B
145 lei – Zona A (in fata scenei)
Un eveniment produs si organizat de METALHEAD si Sprint Media, cu sprijinul Gala MGMT&PR.