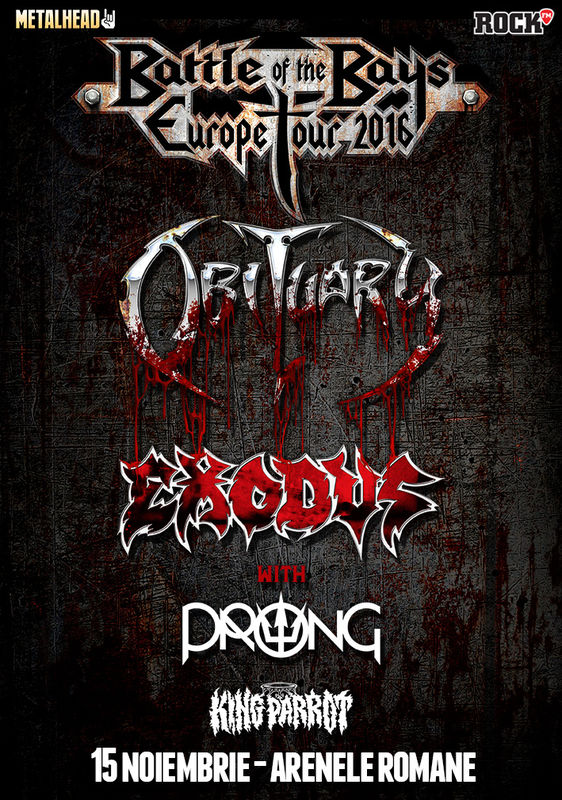 Pe 15 noiembrie, METALHEAD te invita la Arenele Romane (cort incalzit) la "Battle Of The Bays" cu Obituary, Exodus, Prong si King Parrot, inca un warmup party pentru METALHEAD Meeting 2017 !
Obituary
Formata in 1985, in Florida, Obituary avea sa devina unul dintre stalpii de referinta a death metalului american. Lansat intial sub numele Xecutioner, grupul a adus pe scena metalului din intreaga lume una dintre primele voci 'death grunt' prin tonalitatile unice ale lui John Tardy.
http://www.obituary.cc/
https://www.facebook.com/ObituaryBand/info/?tab=page_info
https://www.youtube.com/watch?v=3IRja90Ua0s
Exodus
Cu o cariera muzicala de peste 30 de ani, grupul thrash metal Exodus a produs 13 albume care au marcat curentul thrash din intreaga lume. Cel mai recent material al formatiei, Exhibit B: The Human Condition (2010), a urcat rapid in topurile americane fiind si ultimul album inregistrat alaturi de vocalistul Rob Dukes.
http://exodusattack.com/
https://www.facebook.com/exodusattack/
https://www.youtube.com/watch?v=u95JTXzyHyA
Prong
Cu un amalgam thrash, hardcore si industrial metal, grupul Prong pune in scena concerte neingradite in genurile clasice ale metalului. ìWe never saw ourselves as just a metal band.[..]We saw where we felt things in metal and hardcore could go and we rolled the dice a bit" (Tommy Victor)
http://prongmusic.com/
https://www.facebook.com/prongmusic/info/?tab=page_info
https://www.youtube.com/watch?v=4x6R99V-iHA
King Parrot
Formata in 2010, australienii de la King Parrot au ajuns in scurt timp una dintre cele mai bine cotate formatii ale continentului. Explorand genuri precum thrash metal, grindcore, sludge metal si hardcore punk, King Parrot si-au format un sunet unic capturat in trei albume controversate: The Stench Of Hardcore Pub Trash (2011), Bite Your Head Off (2012) si Dead Set (2015).
https://www.facebook.com/kingparrotband/?fref=photo
https://www.youtube.com/watch?v=KO8dmG3vUbw
Pentru acest concert s-au pus in vanzare intr-un numar limitat de 1600 de bilete exclusiv prin www.iabilet.ro in format electronic si in format fizic in cele 1700 de puncte din retaua iabilet.ro/retea
Earlybird – primele 100 de bilete din fiecare categorie: Golden Circle (in fata scenei) – 110 de lei respectiv Acces General – 75 de lei
Dupa epuizarea primelor 100 de bilete, preturile devin: Golden Circle – 125 de lei si Acces General – 85 de lei pana pe 1 septembrie
Dupa 1 septembrie biletele vor costa 140 de lei Golden Circle respectiv 90 de lei Acces General
Numarul de bilete Golden Circle este limitat la 300 de persoane.
La intrare biletele Acces General vor costa 100 de lei, cele Golden Circle cel mai probabil urmand sa fie sold out deja de multa vreme.
Un eveniment METALHEAD, Warmup party pentru METALHEAD Meeting 2017
Comments
comments
Powered by Facebook Comments