Cu putin timp inainte ca Megadeth sa soseasca in Romania pentru concertul din 22 mai de la Arenele Romane din Bucuresti, a fost lansat spotul de prezentare al festivalului Gigantour, organizat de catre Dave Mustaine, solistul trupei!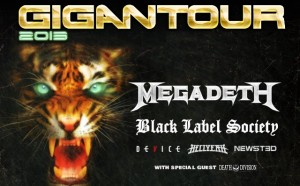 Gigantour, festivalul creat de Dave Mustaine in 2005, anunta pentru editia din 2013 un line-up incredibil. Pe langa headliner-ul Megadeth, pe scena vor mai performa: Black Label Society, Device, Hellyeah, Newsted si Death Division, toate trupele fiind alese personal de solistul Dave Mustaine. Gigantour va incepe in luna iulie si va trece prin orase din Canada si Statele Unite.
Spotul de prezentare poate fi vizionat aici:
http://www.youtube.com/watch?v=RfvxF0O9aVM
Mustaine a fondat trupa in Los Angeles in 1983, reusind sa aduca Megadeth printre cele mai mari formatii ale anilor '80-'90, oferind fanilor imnuri precum "Symphony of Destruction", "Peace Sells", "Holy Wars… The Punishment Due" si "Sweating Bullets", alaturi de single-urile de top din 1997/98 "Trust" (No. 1 track) "Almost Honest", "Use The Man" si "A Secret Place". Megadeth face parte din greii metalului de aproape 3 decenii, vanzand mai mult de 38 de milioane de albume in lumea intreaga. Pionierii thrash-ului se mandresc cu peste 20 de discuri de platina, aur si argint si nu mai putin de 11 nominalizari la premiile Grammy. Pe 4 iunie 2013 vor lansa cel mai nou material discografic numit: "Super Collider".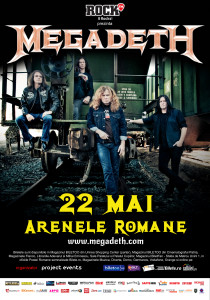 Cei ce doresc sa-l vada pe Dave Mustaine alaturi de Dave Ellefson (bass), Shawn Drover (tobe) si Chris Broderick (chitara), pe scena de la Arenele Romane pe data de 22 mai 2013, trebuie sa stie ca biletele se gasesc in urmatoarele locatii: Magazinul BILETOO din Unirea Shopping Center (parter, intrarea de langa McDonald's), Magazinul BILETOO din incinta Cinema Patria, Magazinele Flanco, Librariile Adevarul, Magazinele Diverta, Muzica, Sala Palatului, Libraria Eminescu, Palatul National al Copiilor sau Statia de Metrou Unirii 1. Cei ce doresc sa comande biletele online, o pot face de pe Biletoo.ro, BLT.ro, Bilete.ro, MyTicket.ro si IaBilet.ro.
~~Concertul MEGADETH va avea loc pe 22 Mai 2013 la Arenele Romane din Bucuresti si este un eveniment organizat de Project Events!~~
www.ProjectEvents.ro *** www.facebook.com/ProjectEvents.ro