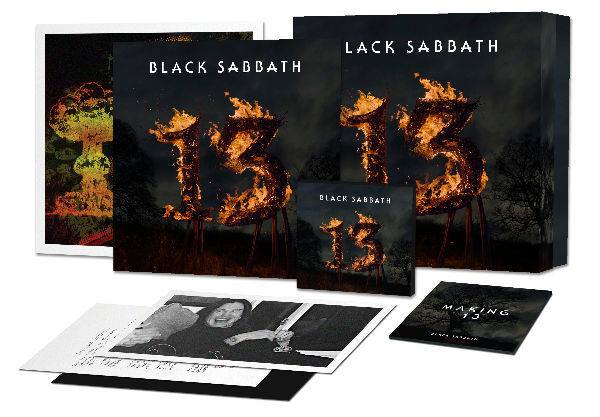 Black Sabbath vor lansa noul lor album 13 si in Romania via Universal Music. Prin Metalhead.ro poti sa faci preorder acum pentru acest album. Ai diferite variante de pret si pachete pentru fiecare gust !
Albumul va fi lansat prin Vertigo/Republic international si marcheaza intoarcerea Black Sabbath la label-ul Vertigo si primul album in acesta formula, de la "Never Say Die" incoace.
Albumul are 68 de minute, cu tot cu piesele bonus.
"Nu poti repeta ce ai facut pana acum, trebuie sa mergi mai departe. E versiunea de acum a ce a fost acum 40 de ani…presupun." declara Tony Iommi.
BLACK SABBATH 13
CD "Special pentru Romania" – 26,99 lei
Editie exclusiva pentru Romania (contine albumul pe CD & booklet redus).
CD standard – 46,99 lei
Editie CD standard
Deluxe Double CD album – 81,99 lei
Editie Deluxe (contine 2 CD-uri: album si CD bonus cu material audio exclusive)
Vinyl – Editie vinyl – 71,99 lei
Super Deluxe Box Set – 397,99 lei
Editie Super Deluxe (contine varianta Deluxe pe CD, vinyl, DVD cu documentarul "Black Sabbath – The Re-union", alaturi de 5 materiale video "behind the scenes", 13 fotografii exclusive si versurile pieselor scrise de mana, toate intr-un ambalaj special)
Pe langa preturile afisate, se mai adauga si traxele de curier in valoare de 11,99 lei. Albumul il veti primi incepand cu data de 11 iunie cand are loc lansarea oficiala.
"13" track listing:
01. End Of The Beginning
02. God Is Dead?
03. Loner
04. Zeitgeist
05. Age Of Reason
06. Live Forever
07. Damaged Soul
08. Dear Father
Deluxe bonus tracks:
09. Methademic
10. Peace Of Mind
11. Pariah