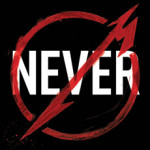 Metallica lanseaza, pe 24 septembrie, "Through the Never", o colectie de piese de pe coloana sonora a filmului cu acelasi nume.
Dublul CD urmeaza a fi lansat la propria casa de discuri a trupei, Blackened Recordings, pe 24 septembrie si contine piese interpretate de Metallica in cadrul concertelor sustinute anul trecut de la Rexall Place din Edmonton si Rogers Arena din Vancouver, concerte filmate special pentru pelicula "Through the Never". Coloana sonora "Through the Never" este disponibila pentru precomada pe iTunes si GetMusic.ro si se va gasi in magazinele de specialitate din Romania, incepand din 24 septembrie.
"Haideti sa ascultam o coloana sonora old school! Suntem foarte incantati de faptul ca filmul nostru se va lansa in curand, dar mai ales de faptul ca putem impartasi muzica noastra in aceasta noua forma foarte cool!" a declarant Lars Ulrich, tobosarul Metallica.
"Through the Never" ii are ca protagonisti chiar pe Metallica, una dintre cele mai populare si influente trupe rock din istorie. In acest film 3D eveniment, condus de muzica, laureatul Nimród Antal, isi invita audienta intr-o reconfortanta si viscerala experienta cinematografica cu filmari live, realizate special pentru acest film, ale celor mai reprezentative piese Metallica, ce se imbina cu povestea indrazneata a unui film de actiune. Filmul prezinta aventura suprarealista a lui Trip, un tanar ce face parte din echipa tehnica a trupei, care este trimis intr-o misiune urgenta in timp ce se desfasoara concertul Metallica. Toata aventura se imbina cu scene din live-ul sustinut de trupa pe cea mai impresionanta scena de concerte construita vreodata, cu efecte pirotehnice si lasere spectaculoase, holograme si simboluri reprezentative pentru muzica trupei, totul fiind filmat simultan cu 24 de camere si transpus 3D prin tehnici fotografice inovatoare.
"Metallica – Through The Never", un film de actiune inspirat de ritmurile intense ale muzicii rock, distribuit de Forum Film Romania, va rula pe marile ecrane de la noi din tara, in format 3D, incepand cu data de 27 septembrie, cu exclusivitate pentru formatul IMAX in prima saptamana. Filmul ofera fanilor experienta de neuitat a unui concert rock live care alterneaza vizual cu episoade dintr-un film de actiune.
Partenerii albumului sunt Rock FM, Metalhead si Forum Film Romania.
Metallica – Through The Never (Music from the Motion Picture)
Disc 1
1. THE ECSTASY OF GOLD (LIVE)
2. CREEPING DEATH (LIVE)
3. FOR WHOM THE BELL TOLLS (LIVE)
4. FUEL (LIVE)
5. RIDE THE LIGHTNING (LIVE)
6. ONE (LIVE)
7. THE MEMORY REMAINS (LIVE)
8. WHEREVER I MAY ROAM (LIVE)
9. CYANIDE (LIVE)
10. …AND JUSTICE FOR ALL (LIVE)
Disc 2
1. MASTER OF PUPPETS (LIVE)
2. BATTERY (LIVE)
3. NOTHING ELSE MATTERS (LIVE)
4. ENTER SANDMAN (LIVE)
5. HIT THE LIGHTS (LIVE)
6. ORION (LIVE)
[youtube=http://www.youtube.com/watch?v=kV-2Q8QtCY4&w=580&h=353]