Welcome to the Snake Pit, primul EP al trupei SnakeyeS, este disponibil prin intermediul tuturor platformelor digitale importante începând de astăzi, 25 noiembrie 2013. De asemenea, ne face o deosebită plăcere să prezentăm videoclipul promoţional pentru piesa Shadow Warriors, una dintre cele trei melodii incluse pe Welcome To The Snake Pit.
Videoclipul Shadow Warriors poate fi vizionat mai jos:
[youtube=http://www.youtube.com/watch?v=qS04YSCJddA&w=580&h=353]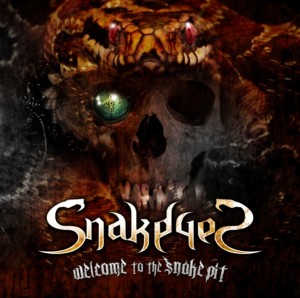 SnakeyeS – Welcome To The Snake Pit Tracklist:
1. Time of Dismay
1. Time of Dismay
2. Snake Pit
3. Shadow Warriors
Welcome To The Snake Pit este disponibil pe Spotify: http://play.spotify.com/album/4V47yt7YMPkYbVfMIsRjGm (doar pentru ţările în care este oferit suport oficial pentru acest serviciu)
Welcome To The Snake Pit poate fi descărcat şi de pe următoarele magazine digitale:
Welcome to the Snake Pit este disponibil şi prin următoarele platforme de distribuţie digitală: Juke, Muve Music, VerveLife, MySpace Music, Rhapsody, MediaNet, Xbox Music, Rdio, iHeartRadio, Sony Music Unlimited, Wimp, Gracenote, Shazam, simfy, 7Digital, Nokia, eMusic.
SnakeyeS înseamnă: Jose Pineda (basistul formaţiei spaniole SPHINX), Cosmin Aioniţă (solistul vocal al formaţiei autohtone 9.7 RICHTER), Justi Bala (solo-uri de chitară) şi Carlos Delgado (tobe). Invitatul special Santi Suarez (SPHINX) îşi face de asemenea apariţia pe câteva dintre solo-urile de chitară de pe EP.
Welcome To The Snake Pit a fost produs, mixat şi masterizat de Jose Pineda. Toate melodiile au fost compuse de Jose Pineda şi Cosmin Aioniţă. Artwork-ul pentru coperta EP-ului a fost creat de Fernando Nanderas, acelaşi artist care s-a ocupat şi cu design-ul logo-ului SnakeyeS.
E-mail: snakeyesmetal@gmail.com
YouTube: www.youtube.com/SnakeyesOfficial
Facebook: www.facebook.com/SnakeyesMetal
Twitter: www.twitter.com/SnakeyesMetal