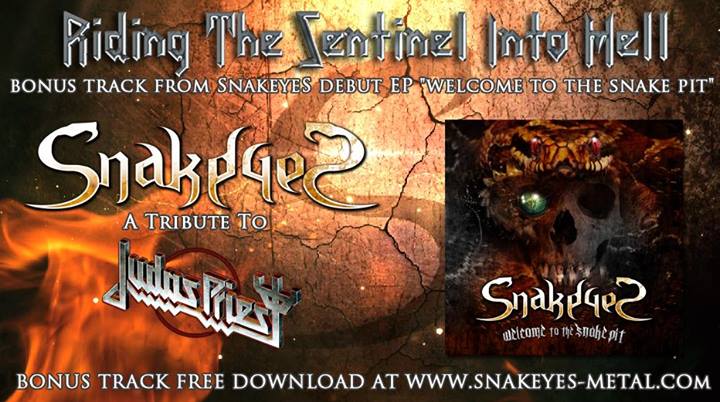 SnakeyeS a înregistrat o piesă-tribut pentru Judas Priest
Înainte de a începe înregistrările primului album full lenght al trupei, SnakeyeS a dorit să mulţumească fanilor pentru recepţia peste aşteptări de care s-a bucurat EP-ul Welcome To The Snake Pit. Aşadar, a fost înregistrat Riding The Sentinel To Hell, un bonus track prin intermediul căruia trupa aduce tribut unei legende din aria heavy metal: Judas Priest. După cum lasă de înţeles şi numele, este vorba despre un medley cu trei piese faimoase din discografia Judas Priest: Riding on The Wind (Screaming For Vengeance, 1982), The Sentinel (Defenders of The Faith, 1984) şi Burn in Hell (Jugulator, 1997).
Piesa bonus Riding The Sentinel Into Hell poate fi descărcată gratuit în format MP3 de pe site-ul oficial SnakeyeS, accesând următorul link: http://www.snakeyes-metal.com/?download=snakeyes_priest_tribute sau poate fi ascultată prin stream direct de pe YouTube: http://youtu.be/14WcYLPhUo0.
Welcome To The Snake Pit, primul EP-ul semnat SnakeyeS, a fost lansat pe 25 noiembrie 2013, alături de videoclipul promoţional al piesei Shadow Warriors, pe care îl puteţi viziona aici:
[youtube=http://www.youtube.com/watch?v=14WcYLPhUo0&w=580&h=353]
Welcome To The Snake Pit este disponibil pe următoarele platforme de distribuţie digitală: iTunes, Amazon, Google Play Music, Spotify, Deezer, Juke, Muve Music, VerveLife, MySpace Music, Rhapsody, MediaNet, Xbox Music, Rdio, iHeartRadio, Sony Music Unlimited, Wimp, Gracenote, Shazam, simfy, 7Digital, Nokia, eMusic.
SnakeyeS înseamnă:
Cosmin Aioniţă (9.7 RICHTER, România) – voce
Jose Pineda (SPHINX, Spania) – bass şi chitară ritm
Justi Bala (SPHINX, Spania) – chitară solo
Carlos Delgado (SPHINX, Spania) – tobe
Web: www.snakeyes-metal.com
E-mail: snakeyesmetal@gmail.com
YouTube: www.youtube.com/SnakeyesOfficial
Facebook: www.facebook.com/SnakeyesMetal
Twitter: www.twitter.com/SnakeyesMetal