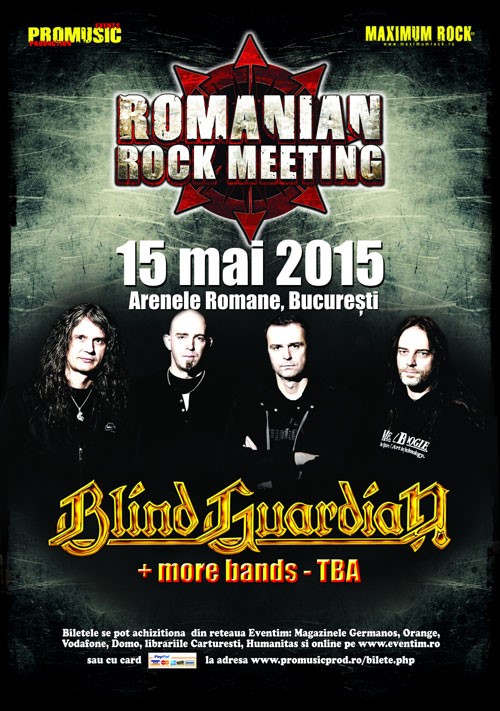 BLIND GUARDIAN, una dintre cele mai iubite formatii metal din lume, pregateste un nou album care va aparea pe data de 30 ianuarie 2015.
Discul se numeste "Beyond The Red Mirror" si reprezinta una dintre cele mai asteptate lansari ale noului an.
Dupa ce discul va fi scos, formatia va porni intr-un turneu de promovare, care va ajunge si in Romania, pe data de 15 mai 2015, cand Blind Guardian va sustine un concert in cadrul evenimentului ROMANIAN ROCK MEETING, marca Promusic Events si Maximum Rock.
Noul trailer, alaturi de cele precedente, pot fi urmarite mai jos.
[youtube=http://www.youtube.com/watch?v=O4i6KO-unEs&w=580&h=353]
[youtube=http://www.youtube.com/watch?v=51WwAtdMfAc&w=580&h=353]
[youtube=http://www.youtube.com/watch?v=pBfejencN7U&w=580&h=353]
Alaturi de formatia germana, vor mai urca pe scena si alte nume, ce vor fi anuntate cat de curand.
"Ne este imposibil sa alegem un singur cantec care sa reprezinte intregul disc. Viitorul single trebuie sa fie un fel de aperitiv. 'Twilight Of The Gods' este perfect deoarece scoate la iveala dinamica incredibila a pieselor si contine linii melodice exceptionale", a declarat Hansi Kursch, solistul Blind Guardian.
Cat despre "Beyond The Red Mirror", ca intreg, discul este "o cautare disperata a adevarului, o explorare a relativitatii conceptelor de bine si rau, o marturie a consecintelor sanselor ratate, o privire aruncata intr-un univers indepartat, unde societatea este una distopica, si o poveste despre o profetie ce contine promisiunea unei revolutii", explica membrii trupei.
Materialul a fost inregistrat la Twilight Hall Studio din Grefrath, Germania si produs de Charlie Bauerfeind, cunoscut pentru munca sa cu Saxon, Hammerfall si Helloween. Pentru realizarea acestui album, Blind Guardian a colaborat cu trei coruri de muzica clasica din Praga, Budapesta si Boston, plus doua orchestre, fiecare continand 90 de muzicieni!
Romanian Rock Meeting este la a treia editie si, in anii precedenti, a adus in Romania nume importante ale scenei internationale, ca Pain of Salvation (2011) si Apocalyptica (2012). 2015 reprezinta anul comeback-ului Romanian Rock Meeting, care promite sa le ofere fanilor din tara, si nu numai, ocazia de a se intalni cu formatii iubite de fani si apreciate de criticii de specialitate.
Bilet VIP – 200 lei / 45.5 euro (40 bucati, disponibile doar prin PayPal) – include:
– acces eveniment
– acces warm up party eveniment*
– acces meet & greet pentru toate formatiile din eveniment
– poster festival
– pachet cu materiale promotionale
* cu ocazia acestui eveniment se vor organiza mai multe concerte (warm up party-uri), iar cu acest bilet VIP dvs puteti alege unul dintre acestea.
Pentru persoanele care doresc sa achizitioneze bilete VIP, organizatorii vin in intampinarea lor si le ofera posibilitatea de a le plati in doua rate astfel:
– prima rata de 100 lei prin sistem PayPal
– a doua rata, in valoare de 100 lei, in ziua concertului la ridicarea biletului VIP de la casa de bilete.
Bilete Normale:
– 69 lei (15.5 euro) pana la data de 31.08.2014 – Sold Out!
– 78 lei (18 euro) pana la data de 31.12.2014 (disponibile si prin reteaua Eventim si Pay Pal) – Sold Out!
– 87 lei (20 euro)  in perioada 01.01.2015 – 31.03.2015 Disponibile!
– 95 lei in perioada 01.04. – 16.05.2015 Indisponibile momentan!
– 110 lei in ziua evenimentului: 17.05.2015 Indisponibile momentan!
Biletele se pot achizitiona din reteaua Eventim (Magazinele Germanos, Orange, Vodafone, Domo, librariile Carturesti, Humanitas, online pe www.eventim.ro), prin sistemul PayPal sau direct de la sediul Maximum Rock Romania.