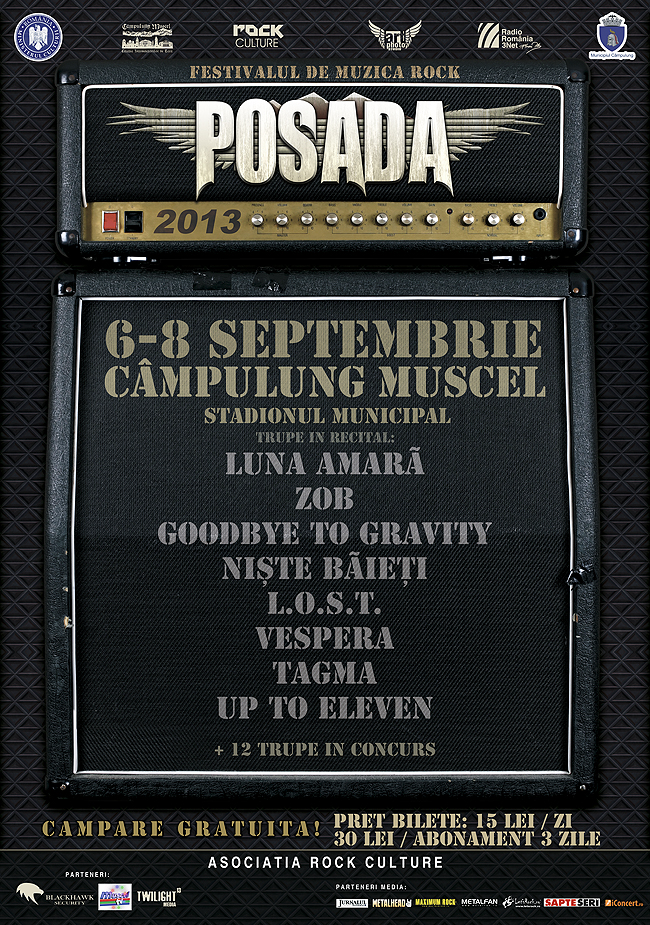 [AFG_gallery id='138′]
UPDATE: Comunicatul organizatorilor, 10.09.2013
Palmaresul festivalului concurs Posada Rock 2013:
Marele Premiu în valoare de 1000 euro și o ședință foto profesională în valoare de 1000 euro – formația FOCURI din Roman
Locul I ­în valoare de 600 euro – formația MASKED TOYS din Bacău
Locul II ­în valoare de 300 euro – formația SHADOWSAIL din Cluj
Locul III în valoare de 100 euro – formația SYNETIC din Cluj
Menţiuni – formațiile The Kryptonite Sparks din Botoşani și Radical Acoustic din Baia Mare
Premiul "Cristian Mărgescu" pentru cel mai bun toboşar – Răzvan Anton de la formația The Kryptonite Sparks
Premiile în bani au fost oferite de Primăria Câmpulung.
Ședinţa foto profesională a fost oferită de Art Photo Studio.
Festivalul Posada Rock 2013 a fost organizat de Asociația Rock Culture și a beneficiat de sprijinul financiar al Ministerului Culturii.
Felicitări câștigătorilor, tuturor formațiilor participante și publicului prezent pentru un weekend rock la cel mai înalt nivel!
VIDEOS:
Crimena – In the Sand (Live at Posada Festival, Campulung Muscel, Romania, 7.09.2013)
[youtube=http://www.youtube.com/watch?v=W6gxZArx-M0&w=580&h=353]
Camera 101 – Somn (Live at Posada Festival, Campulung Muscel, Romania, 7.09.2013)
[youtube=http://www.youtube.com/watch?v=8xfcSrRo96U&w=580&h=353]
Masked Toys (Live at Posada Festival, Campulung Muscel, Romania, 7.09.2013)
[youtube=http://www.youtube.com/watch?v=jWkktAECYKI&w=580&h=353]
Masked Toys – Full show live at Posada Festival, Campulung Muscel, Romania, 7.09.2013
[youtube=http://www.youtube.com/watch?v=G9iY2T8MpMA&w=580&h=353]
Greenish (Live at Posada Festival, Campulung Muscel, Romania, 7.09.2013)
[youtube=http://www.youtube.com/watch?v=lecYfC_6ipk&w=580&h=353]
Greenish – Full show live at Posada Festival, Campulung Muscel, Romania, 7.09.2013
[youtube=http://www.youtube.com/watch?v=fOnM-Y9vIFw&w=580&h=353]
Shadowsail (Live at Posada Festival, Campulung Muscel, Romania, 7.09.2013)
[youtube=http://www.youtube.com/watch?v=AbDSWlth6fM&w=580&h=353]
Shadowsail – Full show live at Posada Festival, Campulung Muscel, Romania, 7.09.2013
[youtube=http://www.youtube.com/watch?v=6fDh6zEDyQM&w=580&h=353]
L.O.S.T. – Drum solo / Remains of Pain (Live at Posada Festival, Campulung, Romania, 7.09.2013)
[youtube=http://www.youtube.com/watch?v=io5qXc3rcRM&w=580&h=353]
Goodbye to Gravity – The Evil That Men Do (Live at Posada Festival, Campulung, Romania, 7.09.2013)
[youtube=http://www.youtube.com/watch?v=AE3Oemsq2fs&w=580&h=353]