In data de 8 aprilie am fost invitat sa le vorbesc elevilor de la Cambridge School despre experienta mea din Colectiv, in cadrul unul TEDx organizat la Baneasa Digiplex. Tema a fost "Ideas Creating Reality". Am avut o gramada de emotii, eram la prima experienta de acest gen, am uitat unele idei, am facut destule greseli, iar unele chestii au fost taiate la montajul video pentru ca speech-ul a iesit prea lung. Din acest motiv am pus mai jos si textul original pe care am intentionat sa-l prezint. A fost o experienta interesanta pentru mine, sper ca si pentru audienta.
Hello. My name is Vlad Busca.
And yes, I was there.
I was there, in Colectiv Club, on the night of October 30th…
And I was there for A LOT of reasons.
First would be that I LOVE music. I believe that I cannot live without music. I simply can't. Music was around me since forever and I was around music too.
Then, I love LIVE music. My first live concert I attended was in 1988, in communist era and since then, thousands followed. I enjoy any type of live show, from small clubs with 50 people to stadium ones with 50 thousand people.
I am also a photographer and videographer. I love documenting moments, I started this since the 90's rock festivals, so most of them are related to music. I used to have a cassette player and recorder that I took with me at concerts, in vacations, almost everywhere. I used to record almost everywhere. Then I had photo and a video cameras I was carrying with me around the country. And now I have a blog where I publish all these.
I am also a musician. I play bass guitar in a band since 2004, but the experience with my previous bands starts in the 90's. Musicians are often supporting fellow musicians by attending their concerts, this being a proof of supporting the local scene. Being a musician, I crossed my paths with Goodbye to Gravity members plenty of times. I was colleague with Bogdan Enache (Goodbye To Gravity drummer) in '97-98 in a band called Abigail, then I met Alex, Vlad and Mishoo several times at concerts when we played – while they were in Thunderstorm or Goodbye to Gravity.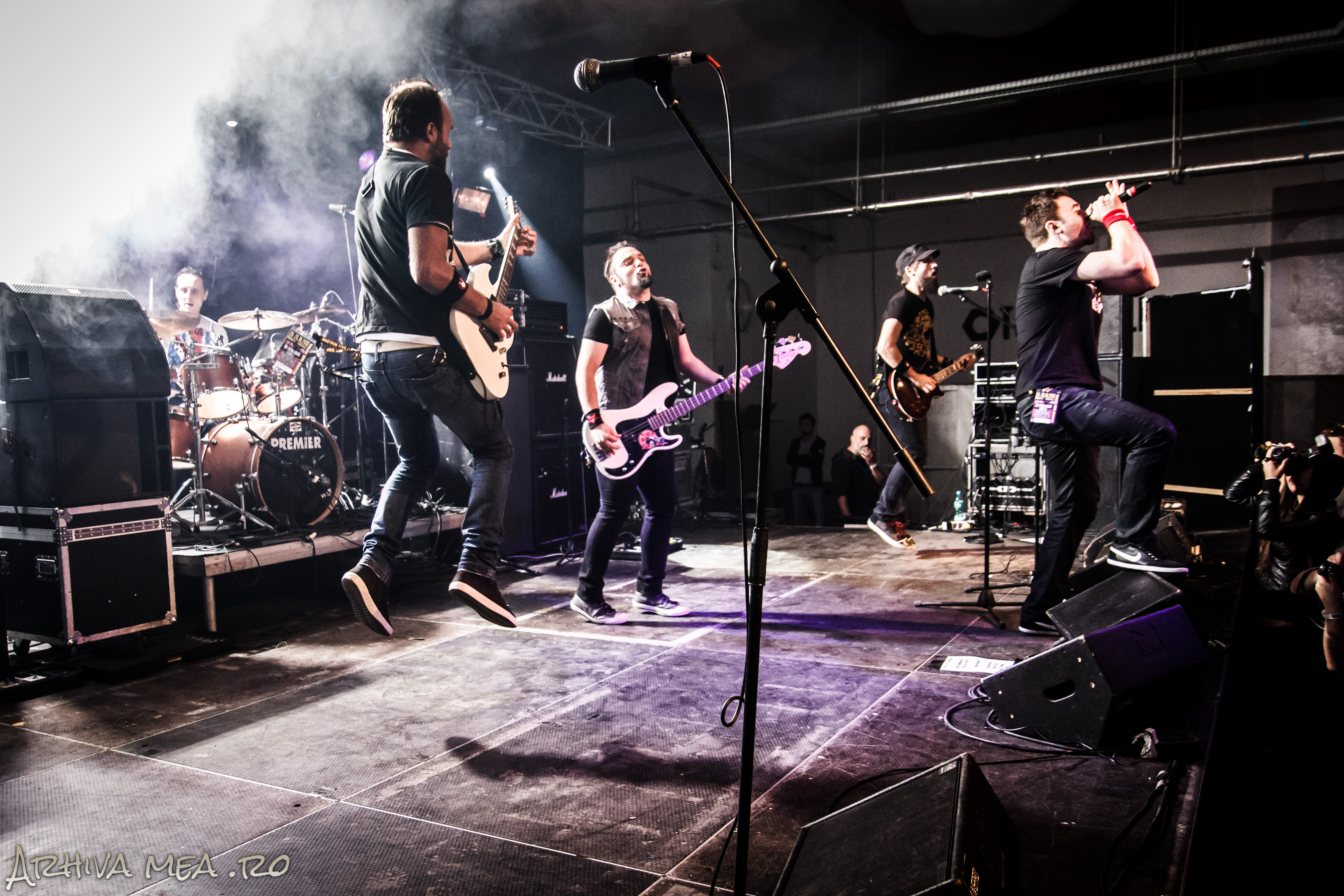 Last but not least, I am working for Universal Music Romania, which is a record label part of Universal Music Group, biggest record company in the world. Eventually, Universal Music Romania was the record label that released Goodbye To Gravity's album "Mantras of War". I proposed to Alex Pascu a collaboration since 2014 and a few months later in 2015 we shook hands for a deal. At Universal I took care for all Goodbye to Gravity related issues, and I was speaking with Alex almost daily for half an year about the album production, deadlines, advices and so on. We also met in the morning of October 30th when Alex and Vlad came to our offices to pick up the cd's that they were going to sell at the release show.
Therefore, as a conclusion, I was there, in Colectiv Club, as a fan, friend, photographer and videographer and business partner.
And then, the day of October 30th came. It should had been a normal day at the office. Alex and Vlad came by and took the cd's, and later in the evening I worked a little bit more because I knew from the boys that the show will start with one hour delay so I left the office around 9 PM. I arrived at the club at around 9.30, start meeting people, including all the guys from Goodbye To Gravity. They were quite pleased because people gathered at the show in a big number, more than 300 persons at that point. I also had a conversation with my fellow photographer Teodora Maftei (Teo), probably the longest we ever had until that night. She was excited about her new achievements in social media, about her upcoming photo exhibition, and told me again that her dream is to be the official photographer of a big band, to tour with them worldwide, documenting all day long. Unfortunatelly, that night she took her last photos …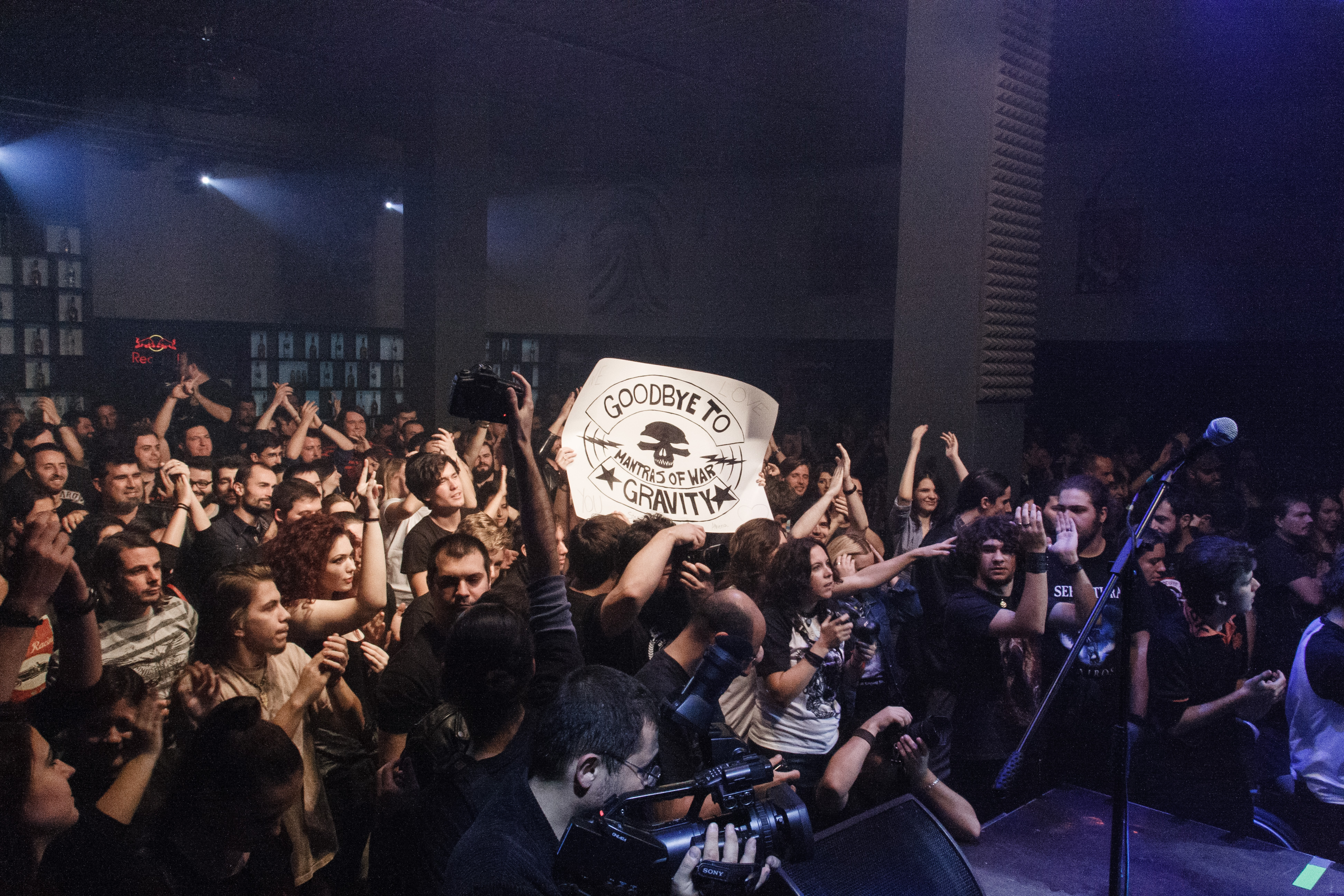 And the show started at 10 pm. The first song was "The Day We Die" which I filmed live. You can see now a video of that live recording, mixed with the original lyric video:
[The Day We Die VIDEO]
You noticed that during this song, at the beginning of the show, the pyro went on for the first time but nothing happened. After The Day We Die, four more songs from "Mantras of War" followed in the exact order as on the album, then two songs from their debut album from 2012. The eighth song was a cover from Iron Maiden, "The Evil That Men Do" – they were huge Maiden fans, especially Alex (he was wearing a Maiden t-shirt that night too) – unfortunately this was their last song ever. The fireworks after this song somehow reached the left pillar from the front of the stage that was covered with sound-absorbing material, similar to a sponge.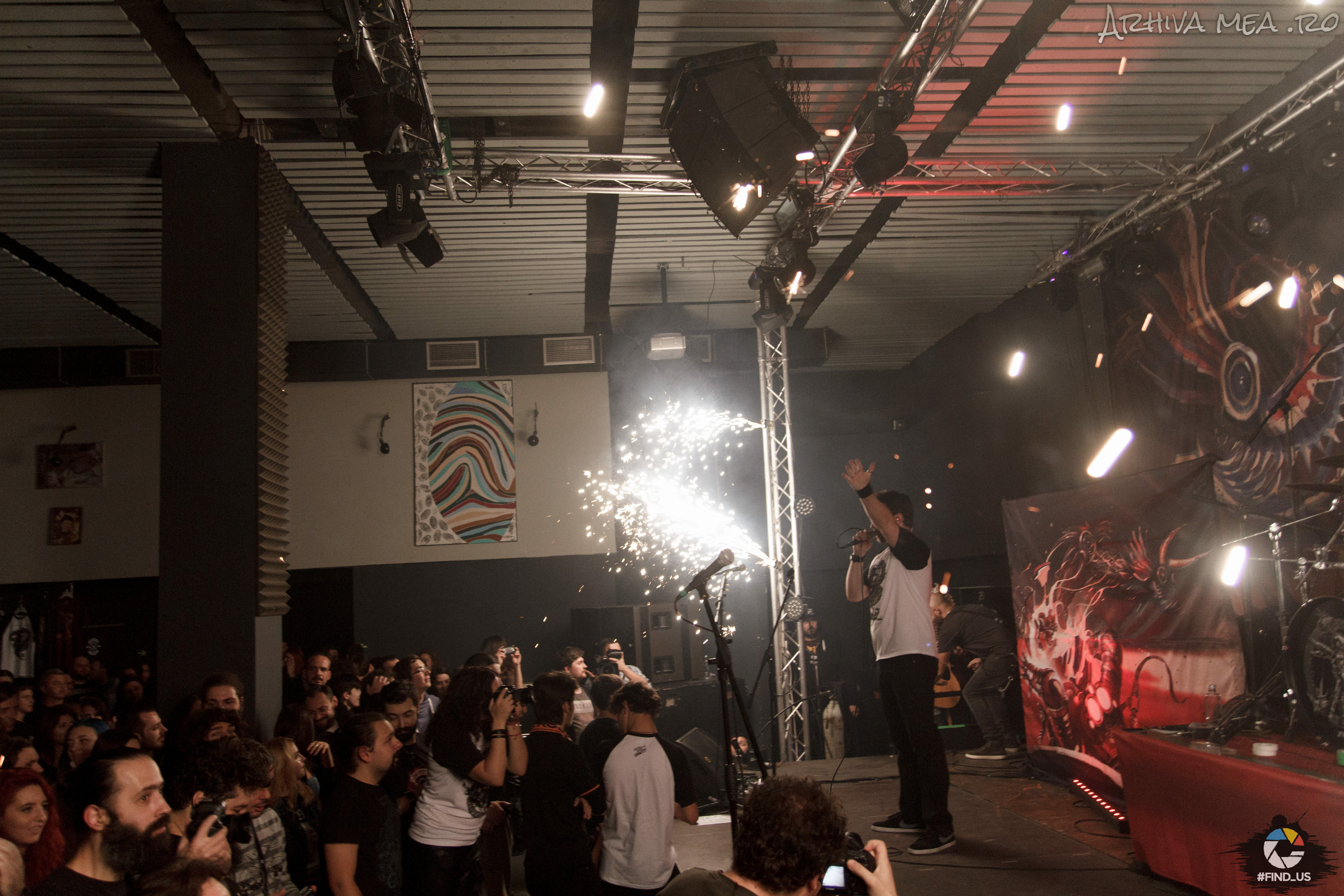 One single spark started a very small fire, at first. In a few seconds, the fire begun to spread upside on the material on the wall. In like 10 seconds, the pillar was burning and the fire was about to spread on the ceiling. Andrei Galut, the vocalist, joked saying something like "A Happy New Year" and "this was not on the schedule". These are the last moments I clearly remember from inside the club. Seeing that, I took my bag and camera and started walking towards the exit. I was in the opposite corner from the exit but it seems that I started moving immediately. When I was close to the exit the people were grouped like when boarding in the metro train at a rush hour in the morning, shoulder to shoulder. But I managed to get out safe, on my feet and without any injury. After getting out of the container I took only two or three steps and a huge pale of black smoke came from behind making the air hard to breathe and also with very low visibility. Later I understood that this was a consequence of one big and intense flame that came from inside the club to the outside and burned everything on its way. This also made people from the container to stumble and fall, which eventually led to a big human pillar of bodies stuck at the exit. Unfortunatelly all those people were stuck there for several minutes, making impossible for the ones from inside to get out. As a consequence, they were burned by the rain of fire that was falling from the ceiling, and inhaled the toxic smoke. This was the cause of death for the 64 victims: severe burns and toxic smoke inhalation. Not to mention at this point the problems that developed in the hospitals, with all the infections, but I will not touch this subject and not get into politics.
As for myself, because of the fact that I didn't know what exactly is happening inside and if there are any risks for explosions, I went like 50 meters away through the end of the alley. I also made a call to 112 seven minutes after the fire started because no firefighters were there, and after seeing how the victims were looking when coming out of the club. Zombies – and I do not exaggerate. I spoke with a few injured victims, asking for their needs and trying to help even if the authorities started pushing us back, securing the perimeters.
Basically, that was my story. My story from that night. Because my real story will continue. After this, I realized that we are all here with a reason. Everyone of us. To continue to do what we do best. As far as myself is concerned, I will keep listening to music. I will keep going to concerts. I will continue documenting live shows, taking photos and videos. I will continue to play with my band. And I will keep supporting my friends from other bands and the underground movement in general. Because the underground is the base for everything, the starting point. No one started in mainstream, in the spotlights. And that's why we shall support our local values, we shall create proper conditions for the environment to grow. All of us as individuals and the society and government in general shall work into this direction. What are these proper conditions? Decent venues where artists can express themselves in safe and modern conditions. Press, promoters and organizers to focus more on new talent. Radio and tv to start airing niche and underground songs when all the members are still alive and not to wait for a tragedy to happen. And, the most important thing, is OUR support. We shall support the artists that we love, we have to show them our affection, we have to buy their music, cd's, merchandise, t-shirts, we have to go to concerts and buy tickets .
And last but not least, we shall never forget what happened in Club Colectiv and we shall always remember the friends we lost and the ones that are still fighting in hospitals. They are all beautiful persons, highly educated. And we shall keep doing what we do also for them, because this is what they love most and the thing that brought all of us together that night: music and all its related aspects. And when the injured ones will come back home they should find a different society, a society where their hobbies and dreams can be achieved, a society that realized that what happened on October 30th was the alarm that a lot of things are wrong, and that was the signal for the change to happen. And if we want for the change to happen, we shall all do best what we do best. It's all in our powers if we believe and if we fight for what we believe in and for what we love.
Thank you.