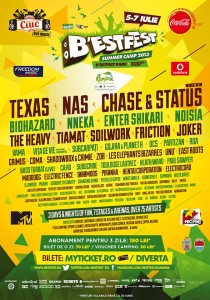 Editia aniversara B'ESTFEST Summer Camp se apropie cu pasi repezi si promite trei zile si trei nopti de experienta, libertate totala si distractie pana la orele diminetii! Accesul in zona de eveniment se va face vineri incepand cu ora 17:00, urmand ca in celelalte doua zile portile sa se deschida la ora 16:00, concertele fiind programate sa inceapa dupa ora 18:00. Prezentat de Ciuc Premium si Coca-Cola si sustinut de Vodafone, B'ESTFEST Summer Camp se va desfasura in weekend-ul 5-7 iulie, in aer liber, in acelasi B'ESTFEST Park din Bucuresti-Tunari.
In toate cele trei zile de festival, programul scenelor principale va alterna, oferind fanilor cel mai bun mix de muzica alternative rock, indie rock, hip hop, soul, afrobeat, dubstep, drum and bass si post hardcore. Vineri, 5 iulie, pe scena Ciuc Premium vor urca Texas, The Heavy, Vama si Madddog, pe Coca-Cola Stage: Tiamat, Vita de Vie cu un show special, ce va include exclusiv piese de pe binecunoscutul album "Fenomental", 1000 Mods, Niste Baieti, Changing Skins. In Jägermeister Rock Arena vor avea loc show-uri acustice ale celor mai apreciate trupe rock din Romania, urmate de concerte full-electric ale unor nume fresh ale scenei underground. Pe scena vor urca asadar Omul cu Sobolani, Les Elephants Bizarres, Tapinarii, Gothic si Diamonds are Forever. In Vodafone Dance Arena dupa miezul noptii vor mixa Joker, CA:RO si Bass Turbat cu un show live in premiera la B'ESTFEST, warm-up-ul fiind asigurat de Amon si Yuffa&Hardcore, urmand ca de afterparty sa se ocupe echipa Electrocord (NotSoCommonDj, The Basstard si UNU'). Distractia va continua pana dimineata, mutandu-se in Freedom Music Arena Silent Discotheque alaturi de Dj Undoo, Bully, Disco Sigaretta si Got Bass (Owniga&Phlo).
A doua zi de festival, 6 iulie, il va avea drept headliner pe Nas, secondat de Nneka pe scena principala, iar Biohazard si Coma vor concerta pe Coca-Cola Stage. Programul zilei va fi deschis de East Roots si Subcarpati pe Ciuc Premium Stage si de White Walls si Piranha pe scena Coca-Cola. Vodafone Dance Arena va gazdui cele mai hot nume ale scenei drum and bass, dubstep si electro: Noisia, Gojira & Planet H, ROA, Heath:Ward, Electrocord (si UNU') si Amon, seara incheiandu-se cu un party asigurat de GOODLIFE (Charlie Boy, Snygg, That Couch Funk Collective) in Freedom Music Arena Silent Discotheque. Jägermeister Rock Arena va gazdui concertele trupelor Grimus, ZOB, Loungerie II, Breathlast si Roadkill Soda.
Ultima zi de festival are in program urmatoarele nume: Chase&Status si Enter Shikari pe scena Ciuc-Premium, alaturi de Electric Fence si Shadowbox & Chimie. Soilwork, Subscribe, Goodbye to Gravity si Hentai Corporation vor concerta pe scena Coca-Cola. Distractia din Vodafone Dance Arena va fi asigurata de Friction, Phirah, DJ Paul Sawyer si Basswise (Diamondz & Alex Dark), in Jägermeister Rock Arena concertele acustice vor fi sustinute de Partizan, Toulouse Lautrec, Pistol cu Capse, Days of Confusion si Perfect Zero to Infinity, in timp ce de party-ul din Freedom Music Arena Silent Discotheque se va ocupa echipa Electrocord.
Blazing Vibez Soundsystem, Chesarion, DJ Oldskull, Sara Alexander, Lady Raizah, Phlo da Shaolin, DJ Undoo, Ras T, Colentina Soundsystem, King Julien si Dippawizz vor evolua pe scena Blazing Vibez Stage powered by MTV si PRO FM care va fi dedicata genurilor reggae, roots si dancehall. Groove On Stage Octogonal Stage include numerosi DJ din zona jazz, funk, broken-beat, idm, breakbeat, DNB, electro si hip-hop: Adnana Sun, Alex Puicea, Danaga, Electroclown, Fane, Jo.E, Kosta, Martianarts, Miss I, Pseudub, Redulian, Rastahfairy, Rotopercutor, Tzuc, Ufe.
Editia din acest an de B'ESTFEST Summer Camp va avea loc in weekendul 5-7 iulie, abonamentele valabile pe intreaga durata a celor trei zile de festival (150 RON), biletele pentru o singura zi (70 RON) si voucherele de camping (20 RON) fiind disponibile in pre-sale (pana pe data de 30 iunie), atat online pe www.MyTicket.ro, cat si in reteaua magazinelor Diverta, magazinul Muzica, Sala Palatului si libraria Mihai Eminescu. Detalii suplimentare despre B'ESTFEST Summer Camp se gasesc pe www.bestfest.ro si www.facebook.com/Bestfest.Romania.